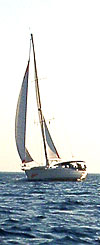 Apartmani Lončar
Caska

6 Apartmana 3-5 osoba s terasama s pogledom na more, rezervirani parking u hladu, upotreba roštilja, klimatizirano, upotreba malog čamca, 100 metara do plaže
About

It is a small place situated in a cove on the Island of Pag. This is the name for the broader area that is bounded on one side by the Zrce beach and by the other side with the villages Zubovici, Kustici and Metajna which are collectively called Barbati. It is situated 2.5 km far from Novalja.
Caska on the Island of Pag is famous for the fact that it is connected to the legend of the sunken city. According to historians, it is a Roman city that sank in the 4th century due to an earthquake. However, there is a presumption that it was abandoned for unknown reasons and it was during the centuries covered by the sea. Different opinions are about the size of place. According to some assumptions, this was a city of up to 5 000 inhabitants, while there are historians who claim that about 30 000 people lived in place. The current archaeological studies have not illuminated the mystery of place. Enjoy in your accommodation Caska.

Caska accommodation

You can enjoy in great vacation by using our caska apartments. Caska apartments from our offer will always welcome you in warm atmosphere. Caska apartments is the best option for you if you want unlimited sun, sea and pleasure. Caska accommodation will offer you everything you need to have perfect vacation.





NOVALJA
Holiday in Novalja and get to know its streets, beaches, history
and culture ...
PAG
Medieval city 15th st
old walls, saltern, beautiful panoramas ...
STARA NOVALJA
Strange little place that offers a 5 km long with beautiful beaches ...
GAJAC
Relatively new settlement, a lot of apartments, parking lots, 3 kilometers from Novalja
CASKA
A beautiful bay with a very nice beach in front of that stir sunken Roman city
VIDALIĆI
A small town isolated from noise and crowd, ideal for a holiday in full sense
ZUBOVIĆI
As in Vidalići calm and separate. The cliff offers a wonderful panorama
METAJNA
Small bay, close to very beautiful beaches Rueica, suitable for rock climbing sports
SVETI DUH
Very nice camp in unspoiled nature of the island of Pag
ŠIMUNI
Camping with small bungalows, ACI marina is protected from all winds
POTOČNICA
A small cove with beautiful sandy beach - Kukurina
JAKIŠNICA
Beautiful bay, protected on the boats, scattered houses - perfect for vacation

KUSTIĆI
Great little place with a large offer of private accommodation. Lots of small beach

MANDRE
View of the islands and open sea, small beaches, plenty of private accommodation

POVLJANA
Extends over two bays, facing the open sea, many beaches ...

VLAŠIĆI
Surrounded by many vineyards along the sea is very beautiful stretch of sandy beach ...