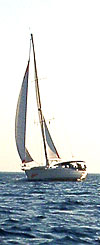 About Metajna Island Pag

Place is located in the northern part of Pag isle.You are warmly invited to enjoy the rocky nest endowed with natural scenery, numerous small sandy and rocky bay-beaches surrounded by unpoluted sea.Last but not least, the island's specialities such as Pag cheese, smoked ham, lamb and wine of the region are a must to accomplish the unforgettable holidays.The nearest bigger town, 10km north of Metajna apartments is Novalja which is abundant in small souvenir shops, banks, hotels, disco-clubs and exchange offices. A doctor's surgery, a pharmacy and a petrol station are also available there. Place is accessible along the Adriatic mainroad, running from Rijeka or Zagreb. Tourists can either embark a ferry from Prizna (along the coast) to Žigljen or cross the bridge. The scenic ferry voyage takes only ten minutes.The southern part of the island is connected to the mainland further south (direction Zadar) by the Paški bridge. Visit one of the most beautiful beaches on the island, which is accessed through the picturesque
area called Canyon near Metajna. The beach attracts the beautiful clear sea and the moon
landscape. In Metajna you will find all sorts of dishes, mostly seafood - all kinds
cephalopods and fish, which has a submarine, and it's all fresh catch, since the
place of work three fishing groups. Then, offer the shellfish, lamb, ham,
cheese ... you can drink on every step domestic jaundice, which is proud of each
House in Metajna apartments, and there is still homemade brandy and sherry, and a healthy domestic tea and sage heather ...

Accommodation Metajna Island Pag:

Place is a small town on the island of Pag, famous for its source of drinking water. Tourism in Metajna apartments is based on private housing, particularly apartments, rooms or guesthouses where you uzivati.Beautiful nature, peace, mild climate, hospitality and cheerful spirit of accommodation and the hosts will make your vacation unforgettable. Metajna apartments will always welcome you tidy and ready for your vacation.









NOVALJA
Holiday in Novalja and get to know its streets, beaches, history
and culture ...
PAG
Medieval city 15th st
old walls, saltern, beautiful panoramas ...
STARA NOVALJA
Strange little place that offers a 5 km long with beautiful beaches ...
GAJAC
Relatively new settlement, a lot of apartments, parking lots, 3 kilometers from Novalja
CASKA
A beautiful bay with a very nice beach in front of that stir sunken Roman city
VIDALIĆI
A small town isolated from noise and crowd, ideal for a holiday in full sense
ZUBOVIĆI
As in Vidalići calm and separate. The cliff offers a wonderful panorama
METAJNA
Small bay, close to very beautiful beaches Rueica, suitable for rock climbing sports
SVETI DUH
Very nice camp in unspoiled nature of the island of Pag
ŠIMUNI
Camping with small bungalows, ACI marina is protected from all winds
POTOČNICA
A small cove with beautiful sandy beach - Kukurina
JAKIŠNICA
Beautiful bay, protected on the boats, scattered houses - perfect for vacation

KUSTIĆI
Great little place with a large offer of private accommodation. Lots of small beach

MANDRE
View of the islands and open sea, small beaches, plenty of private accommodation

POVLJANA
Extends over two bays, facing the open sea, many beaches ...

VLAŠIĆI
Surrounded by many vineyards along the sea is very beautiful stretch of sandy beach ...