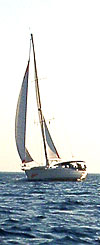 About

On the north-western part of the island Pag, in vicinity of Novalja, in the cove, lies tourist resort comprising also Gajac apartments village.Although relatively young, the tourist resort develops into an attractive tourist destination by adding new offer to its visitors. In the nearby natural coves there are lovely beaches: pebble beach Zrće, sand beaches Caska and Straško with pine trees providing pleasant shade during summer sunshine. Each of the above beaches has parking lot, bar and restaurants including small shops (kiosk). The main beach can be reached by a pleasant walk along the sea. There is a water-slide and two restaurants.

Place has a mild climate and is blessed with abundant sunshine. It is surrounded by blue sea and white stone with a view on grandiose heights of mountain Velebit in the back. It is well connected with local roads and other places on the islands. Tourists can visit nearby places and enjoy in cultural heritage (there are a few archaeological localities), gastronomic offer and hospitality of local people. After visiting the Gajac apartments many guests come back again.

Have a great holidays on Gajac island Pag and pleasant stay in turistic village and accommodation Gajac apartments.



NOVALJA
Holiday in Novalja and get to know its streets, beaches, history
and culture ...
PAG
Medieval city 15th st
old walls, saltern, beautiful panoramas ...
STARA NOVALJA
Strange little place that offers a 5 km long with beautiful beaches ...
GAJAC
Relatively new settlement, a lot of apartments, parking lots, 3 kilometers from Novalja
CASKA
A beautiful bay with a very nice beach in front of that stir sunken Roman city
VIDALIĆI
A small town isolated from noise and crowd, ideal for a holiday in full sense
ZUBOVIĆI
As in Vidalići calm and separate. The cliff offers a wonderful panorama
METAJNA
Small bay, close to very beautiful beaches Rueica, suitable for rock climbing sports
SVETI DUH
Very nice camp in unspoiled nature of the island of Pag
ŠIMUNI
Camping with small bungalows, ACI marina is protected from all winds
POTOČNICA
A small cove with beautiful sandy beach - Kukurina
JAKIŠNICA
Beautiful bay, protected on the boats, scattered houses - perfect for vacation

KUSTIĆI
Great little place with a large offer of private accommodation. Lots of small beach

MANDRE
View of the islands and open sea, small beaches, plenty of private accommodation

POVLJANA
Extends over two bays, facing the open sea, many beaches ...

VLAŠIĆI
Surrounded by many vineyards along the sea is very beautiful stretch of sandy beach ...