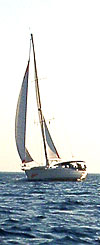 | | | |
| --- | --- | --- |
| | | |
About Povljana

Traditionally, place was an agricultural area that for centuries supplied food to majority of people on the island. In addition to agriculture, the population has earned their living from fishery and cattle breeding. Great changes occurred in the middle of the 20th century, when tourism started to develop in place. First records of a great tourist wave dates back to 1954. Hunting tourism developed in Povljana first. Today evidence supporting this theory can be found in the remains of a house in the territory of Veliko blato. This house belonged to the family Košćina, and this Pag nobility invited hunters from across Europe. What was once a rural land now became a developed municipal centre, reflecting the efforts of the population investing in Povljana and striving to further affirm it as a distinguished tourist destination.

Accommodation Povljana:

A tourist resort with its 700 inhabitants, is increasingly the choice of our guests a distinctive destination for relaxation and enjoying the natural surroundings. Private accommodation can be selected in a modern and quiet villas, private apartments, rooms and campsites. Hidden coves, beautiful beaches, sand and stone, crystal clear sea, leaving each guest a choice that some of them find their sought peace.







NOVALJA
Holiday in Novalja and get to know its streets, beaches, history
and culture ...
PAG
Medieval city 15th st
old walls, saltern, beautiful panoramas ...
STARA NOVALJA
Strange little place that offers a 5 km long with beautiful beaches ...
GAJAC
Relatively new settlement, a lot of apartments, parking lots, 3 kilometers from Novalja
CASKA
A beautiful bay with a very nice beach in front of that stir sunken Roman city
VIDALIĆI
A small town isolated from noise and crowd, ideal for a holiday in full sense
ZUBOVIĆI
As in Vidalići calm and separate. The cliff offers a wonderful panorama
METAJNA
Small bay, close to very beautiful beaches Rueica, suitable for rock climbing sports
SVETI DUH
Very nice camp in unspoiled nature of the island of Pag
ŠIMUNI
Camping with small bungalows, ACI marina is protected from all winds
POTOČNICA
A small cove with beautiful sandy beach - Kukurina
JAKIŠNICA
Beautiful bay, protected on the boats, scattered houses - perfect for vacation

KUSTIĆI
Great little place with a large offer of private accommodation. Lots of small beach

MANDRE
View of the islands and open sea, small beaches, plenty of private accommodation

POVLJANA
Extends over two bays, facing the open sea, many beaches ...

VLAŠIĆI
Surrounded by many vineyards along the sea is very beautiful stretch of sandy beach ...