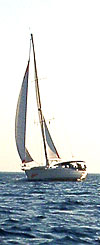 foto by Ivan Denona
Jedna od najvećih zanimljivosti koju Novalja ima je antički vodovod, podzemna građevina izgrađena u prvom stoljeću poslije Krista, u doba Rimljana, zbog čega ga lokalno stanovništvo popularno zove "Talijanova buža" (buža = rupa). Podzemni vodovod u cijelosti je isklesan ljudskom rukom u živom kamenu, u dužini od 1042 metra,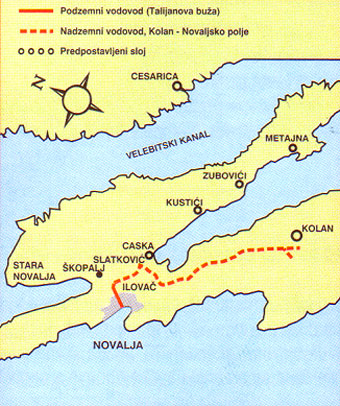 prosječna širina mu je oko 60 cm, a visina mu se mijenja. Ima 9 nadzemnih otvora (odihe), a najviša se nalazi na visini od 44 metra.
Vodovod je služio za napajanje mjesta pitkom vodom, za potrebe keramičkih radionica, bojadisaonica i za opskrbu brodova koji su navraćali u luku. Krajem antičkog razdoblja vodovod gubi svoju funkciju i za njega se nije znalo sve do 19.st., kada je ponovno otkriven. Početkom 20.st., vodovod je bio u funkciji kroz tri kraća razdoblja. Danas je on u prvom redu turistička atrakcija i može se razgledati u dužini od oko 150 m, a stalno se radi na njegovoj daljnjoj revitalizaciji i uređenju kako bi bio dostupan turistima u što većoj dužini. Gradski muzej Novalja u Zvonimirovoj ulici ujedno je i ulaz u vodovod.



povratak na predhodnu stranicu
NOVALJA
Holiday in Novalja and get to know its streets, beaches, history
and culture ...
PAG
Medieval city 15th st
old walls, saltern, beautiful panoramas ...
STARA NOVALJA
Strange little place that offers a 5 km long with beautiful beaches ...
GAJAC
Relatively new settlement, a lot of apartments, parking lots, 3 kilometers from Novalja
CASKA
A beautiful bay with a very nice beach in front of that stir sunken Roman city
VIDALIĆI
A small town isolated from noise and crowd, ideal for a holiday in full sense
ZUBOVIĆI
As in Vidalići calm and separate. The cliff offers a wonderful panorama
METAJNA
Small bay, close to very beautiful beaches Rueica, suitable for rock climbing sports
SVETI DUH
Very nice camp in unspoiled nature of the island of Pag
ŠIMUNI
Camping with small bungalows, ACI marina is protected from all winds
POTOČNICA
A small cove with beautiful sandy beach - Kukurina
JAKIŠNICA
Beautiful bay, protected on the boats, scattered houses - perfect for vacation

KUSTIĆI
Great little place with a large offer of private accommodation. Lots of small beach

MANDRE
View of the islands and open sea, small beaches, plenty of private accommodation

POVLJANA
Extends over two bays, facing the open sea, many beaches ...

VLAŠIĆI
Surrounded by many vineyards along the sea is very beautiful stretch of sandy beach ...