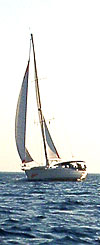 U uvali Vlaška Mala uz istočnu obalu otoka Paga, otkriveni su ostaci potonulog trgovačkog broda s teretom amfora iz I. Stoljeća prije Krista.


(rekonstrukcija potonulog rimskog broda)

Iako su već stari Grci Na Jadran donijeli Amforu kao ambalažu za prijevoz vina, ulja i drugih proizvoda,
tek u rimsko vrijeme bilježimo njihovo masovno korištenje u sve bolje organiziranoj pomorskoj trgovini širom Sredozemlja.


Amfore su izrađene od otpornog keramičkog materijala koji tisućljećima odolijeva razornim prirodnim utjecajima, te nam omogućuju otkrivanje i istraživanje ostataka antičkih brodoloma, čime izravno proučavamo pomorstvo i gospodarstvo antičkoga doba.

Grad Novalja spremno je dočeka novo i zanimljivo podmorsko arheološko otkriće te, uz stručnu i financijsku pomoć Ministarstva kulture Republike Hrvatske, tijekom svibnja 2004. godine organizirao pravnu i fizičku zaštitu nalazišta.


Ono je danas zaštićeno željeznim kavezom dimenzija 10 x 12 m, visine 2 – 4 m, u koji je istraživačima moguće ući kroz otvor izveden na njegovoj gornjoj površini. Nalazište je time postalo dostupno svim zainteresiranim pomorskim posjetiteljima, a Otok Pag još jednom uvrstilo na listu vrlo interesantnih destinacija po pitanju prastarih arheoloških nalazišta.

povratak na predhodnu stranicu
NOVALJA
Holiday in Novalja and get to know its streets, beaches, history
and culture ...
PAG
Medieval city 15th st
old walls, saltern, beautiful panoramas ...
STARA NOVALJA
Strange little place that offers a 5 km long with beautiful beaches ...
GAJAC
Relatively new settlement, a lot of apartments, parking lots, 3 kilometers from Novalja
CASKA
A beautiful bay with a very nice beach in front of that stir sunken Roman city
VIDALIĆI
A small town isolated from noise and crowd, ideal for a holiday in full sense
ZUBOVIĆI
As in Vidalići calm and separate. The cliff offers a wonderful panorama
METAJNA
Small bay, close to very beautiful beaches Rueica, suitable for rock climbing sports
SVETI DUH
Very nice camp in unspoiled nature of the island of Pag
ŠIMUNI
Camping with small bungalows, ACI marina is protected from all winds
POTOČNICA
A small cove with beautiful sandy beach - Kukurina
JAKIŠNICA
Beautiful bay, protected on the boats, scattered houses - perfect for vacation

KUSTIĆI
Great little place with a large offer of private accommodation. Lots of small beach

MANDRE
View of the islands and open sea, small beaches, plenty of private accommodation

POVLJANA
Extends over two bays, facing the open sea, many beaches ...

VLAŠIĆI
Surrounded by many vineyards along the sea is very beautiful stretch of sandy beach ...